ASH Point is a system that rewards users for their contributions to the AshSwap development journey, by completing quests and reaching milestones. In addition, Ash Point is also an important factor that helps you increase your chances of having WL of AshSwap's Airdrop campaign.
Are you ready to try it out?
You can earn ASH Points by performing transactions and inviting others to AshSwap. Points are linked to an address and Twitter, or Discord account.
Here are your objectives:
400 Points for each daily transaction you do (max 8 per day), they are:

exchange

addLiquidity

removeLiquidity

enterFarm

exitFarm

claimRewards

increase_amount (gov stake)

increase_unlock_time (gov stake)

Help to share AshSwap's article:

300 Points with every Medium/blog post from AshSwap
2000 Points with the posts from Custom Quest
After sharing posts, please kindly fill in the form here to record your sharing: https://forms.gle/xQtt5NYVVWDz8uAU7 (form is closed)

10k+ Points: For discovering issues and reporting them in our Bug Report, you'll get points depending on the issue's severity! Report link: https://forms.gle/VfEEfzTG3LnJPPxC9
Besides the regular quest, we also have other quests where users can earn more reward
Streak Quest: you can check-in in Quest UI for accumulating the date, and when it reaches a certain level, you will be able to claim more.
Custom Quest: we will create some seasonal quests where you will need to finish the challenge to earn the bonus point, the detailed quest will be described on each Custom Quest.
Discord Role Point Conversion Rate
We appreciate all the support from our community from the beginning, and in order to tribute the support of you guys, we have a bonus point with your equivalent Discord Role as below:
Testnet User: 30,000 ASH Point
Supporter = 40,000 ASH Point
Early Supporter = 50,000 ASH Point
Moderator = 280,000 ASH Point
MVP role = 5,000 ASH Point
Please kindly fill in your info to this form to record your role, we will double check & add the points to your account within 7 days after the form close: https://forms.gle/2J3jwQW7qtBFrQdf7 (form is closed)
Note: this is the role of the old users in our Discord community; at this time we do not distribute any new role.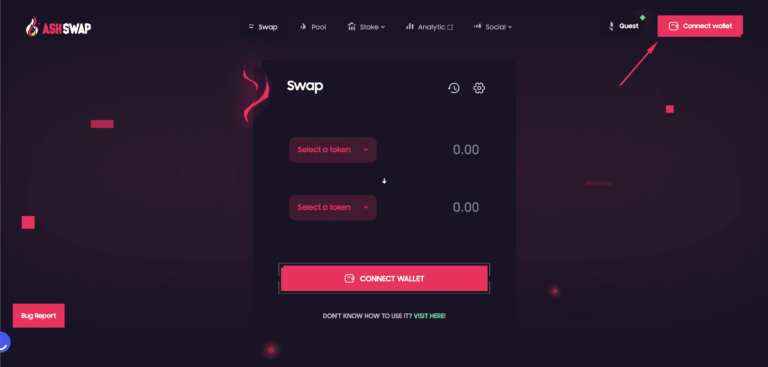 2. Click the quest button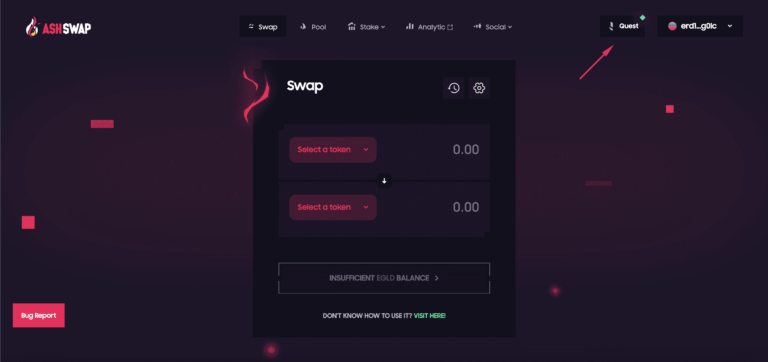 3. Connect your Twitter account (at least 1 month old) or Discord account (which already joined AshSwap Discord Community (https://discord.gg/apmhYCPDbW)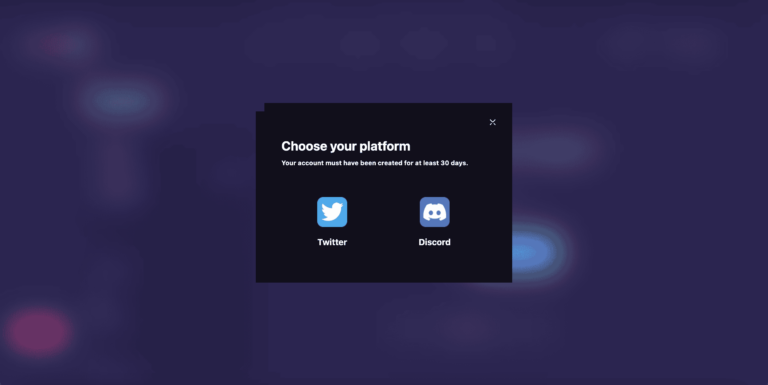 4. Check the list of current quest list and complete them; them click "Claim" to take your ASH Point reward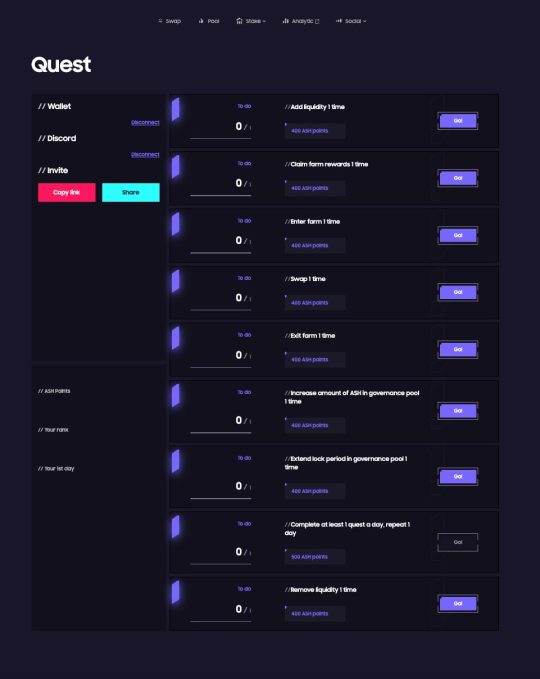 Note:
While joining the Ash Point Program on https://devnet.ashswap.io/, please kindly note note that you need to claim the Faucet first to get the necessary token.
Read the guide about the Faucet that we prepared here:
We do not DM you first without a head-up in the public channel. Be careful!
AshSwap is the very first stable-swap, an undoubtedly essential pillar in any DeFi ecosystem, built on the MultiversX blockchain. Our ultimate vision is to serve as an infrastructure for the sustainable development of DeFi on MultiversX.
Not only does AshSwap inherit the ideas from its predecessors, but it also introduces new and novel concepts to tackle the current problems in DeFi. The ASH token has many more use cases than just farming rewards and voting power representation.
MultiversX is a highly scalable, secure and decentralized blockchain network  created to enable radically new applications, for users, businesses, society, and the new metaverse frontier.
What wallets can users use?
AshSwap is built on MultiversX, AshSwap users will use the Maiar wallet while using our protocol.
Visit https://maiar.com/ to install the Maiar wallet.
Stable-Swap
Revenue Sharing
DAO Voting Right
Farming
Yield Boosting
That helps:
Reduce selling pressure & create constant buying pressure
Bring benefits to long-term holders
Create revenue stream
What is ASH point Program?
ASH Point Program is a system that rewards users for their contributions to the AshSwap development journey, by completing quests and reaching milestones, users will receive ASH Points.
How can I earn ASH Points?
You can get Ash Points in those three ways: – Complete the Daily quests – Complete Custom quests – Complete Streak Quest
What is ASH Point utility?
Increase the change to have AshSwap Airdrop Whitelist
Redeem Special Roles on AshSwap's Discord Community
Have the opportunity to appear in honor of individuals who have actively contributed to the AshSwap project in the community.
And many other interesting use cases in our next ASH Point update
When the mainnet is launched, will the ASH Point system still work?
Besi

des

the profit users can earn on the exchange, we also want to give them more value, hence the ASH Point Program will remain the same on our mainnet, all the data will be converted after the launch
I'm having a problem and need help!
For the fastest help, join our Discord, and then send your help request to the 💻・support channel or raise your problem on AshSwap Global Telegram, our admins will quickly show up and fix the problem for you.
Link to join Discord: https://discord.gg/D2DKAt3F
Link to join Telegram: https://t.me/ashswapglobal
I don't know how to use AshSwap DEX features
Don't worry. We have prepared a use guide for you. Check out our Features Walkthrough for an overview of the features. After that, you can view the detailed manuals of each feature one by one in the menu bar on the left.
Features Walkthrough doc:
How to Get Role in Discord?
At this time, we do not continue to distribute the roles there; you can wait for our further update about this.
I can not connect with ASH Point Program
It can be because some extensions you're using blocked the Captcha.
Some solutions you can try:
Use the incognito mode without extension and try connect again.
Temporary disable running extensions & try connecting again.
I can not Complete the Quest
The quest "extend lock period in governance pool 1 time" does not work for me
Let's extend the lock duration for at least 1 week